Resilience in the Age of Digital Dictatorship
Events on technosolutionism, virtual spaces, Web3, p5.js, and more from the community of mission-driven technologists.
Where are we and where are we going as digital citizens and people? How do we consider our future relevance as humans in an age of rapid technological development? Will we even be relevant at all? These are just some of the questions that we'll be pondering in our event coming up tomorrow Saturday at 4:30PM with artist & designer Sofia Cope.
Developh is five years old this year. Our community regulars know that from a technical and 'generic' organization (i.e. one that just taught basic 'Intro to Python' workshops) we've evolved into a space that more intentionally questions technology's intersections and ethics. Simply put: we're concerned with should we build it, not just how.
One can argue that the Philippines is still at need for support at some 'baseline' level before we speculate and dream. Like what spurred Developh in the first place, technology education is still insufficient: the Philippine Software Industry of the Philippines reported that over 50% of college IT students lack basic entry-level programming skills.
One could also argue that this is the perfect time to reconsider what the value of a technologist actually is. Whose standards are we working around? Is the objective of a Filipino technologist to work for a multinational or FMCG? Is it to create a startup, and if so, who does it serve and what are its measures of success? Is it to simply make for someone, for technology itself's sake, or for ourselves?
Whichever you're pondering, we hope you make some space to join us in thought.
Events
All events listed below are free to attend on the Developh Discord! Join us at develo.ph/discord for the invite.
Resilience in the Age of Digital Dictatorship
November 13 (Saturday) at 4:30PM PHT on the Developh Discord
Where are we and where are we going as digital citizens and people? Artist & designer Sofia Cope considers the future where we must consider our relevance as humans –– if we will still be relevant at all.
Learn more about Sofia's work: https://www.sofiacope.co/, https://www.instagram.com/sofia.cope/
Designing Virtual Spaces with Nikki Datlangin
November 17 (Wednesday) at 8:00PM PHT on the Developh Discord
Web design can be expanded to produce more than just landing pages. What can we learn from the physical realm—from architecture to urban planning and interior design—to produce better, safer digital spaces? Join us for a talk by Nikki Datlangin to explore at the possibilities of restoring context to the web: building digital homes, gardens, libraries, playgrounds, and gathering spaces.
Learn more about Nikki's work: https://nikkidatlangin.com/
WTF is Web3? with Gian Ferrer of Coinvise and Forefront
November 19 (Friday) at 8:00PM PHT on the Developh Discord
Want to get in Web3, but don't know where to start? Learn from Gian Ferrer of Coinvise and Forefront. He'll cover the following:
- NFTs: why they matter and how to make them
- DAOs: what are these new kind of organizations, and how they're the future of work
- Working in Web3: how to transition from Web2 to Web3, getting paid in crypto and how to make use of it
- Debunking common concerns about the space
Aside from the talk, this event will also have Q&A portion that everyone can engage in.
Learn more about Gian's work: https://lynkfire.com/gianferrer
---
Recently concluded
Other upcoming events
Introduction to Data Science, Franz Taborlupa – November 23

The Power in Softness: Using Soft Data to Understand Ourselves, Phoemela Ballaran – November 27

Introduction to p5.js and Creative Coding, Chia Amisola – December 3

Discord Bots 101, Gab and Raf – December 4
Interested in speaking and sharing your knowledge with the Developh Community? We'd love to welcome folks (especially beginners and students!) to do so with us. Reach out at core@developh.org if you're interested in doing so.
Follow us on Lu.ma to get updates on all of our events as they are announced. You'll receive Calendar invites and instant notifications.
---
From the Campgrounds
Developh Camp is our ongoing fellowship bringing together mission-driven creators, designers, and technologists. Together, we make and think about making.
Our first month has been focused on investigating Identity and Practice. Are the problems we face actually meant to be solved with technology? What does it mean to be a creator? What about a *Filipino* creator? When do we consider ourselves designers vs. co-designers? What social and cultural values go into the inputs and outputs of tech?
These are just some of the difficult questions that we're spending time touching on with one another. Many of these are ones that we'll likely go most of our lives without having a perfect answer for; rooting ourselves in desire to understand ourselves better will augment all the work we produce.
We've also been curating our passing thoughts and dives in a 'What I've been thinking about lately' Are.na board. Here are some tidbits:
Over the weekend, I watched a documentary on the next gen of Asian Hip Hop, as well as a Benefit concert hosted by 88rising called Asia Rising Together. It made me so emotional finally seeing Asian representation in the creative industry. REPRESENTATION MATTERS. Seeing people who look like you pursue similar dreams can show you that it is possible for you too — it expands you. It felt like I had stepped into a portal - a future where our Asian diaspora feels safe to express ourselves, where we are all rising together. Bridging and uplifting the Asian diaspora is definitely something I also want to explore in my creative work.

I have no idea how or on what (yet!), but low-key want to work with 88rising one day hehe. – Rachel Chak
---
From the Community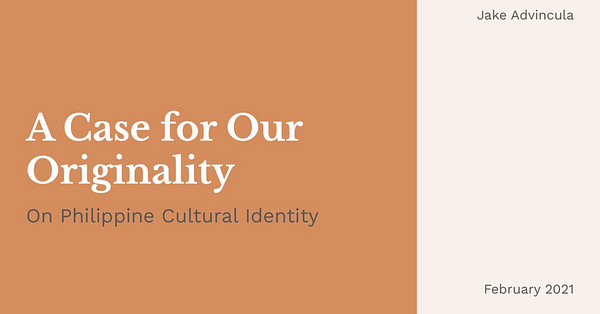 are.na
a-case-for-our-originality.pdf — Are.na
Are.na is a platform for connecting ideas and building knowledge.
Jake shared 'A Case for Our Originality' a talk he gave covering Philippine cultural identity, colonialism, local genius, and historical misconceptions. Give the PDF a read.

Juls is a game artist and designer who started streaming UI studies after work hours! Follow her on Twitch and check out her lovely self-made streaming avatar.

Chia gave a talk called 'Worlding a New Philippines' on what we can learn from fictions, design, and Genshin Impact…?!
Share recommendations, personal wins, and all the little grand things in your life for our community newsletters (biweekly issues coming soon!) –– we're excited to know what you've been up to lately. https://develo.ph/update
---
See you at our events, around Discord, and in the cyberspace. With you in creation,
––Chia & Developh